Clans are an optional appendage of Slay.one. Clans allow players to create groups for social activities, joining together with friends. Other players may use clans competitively, and as a status symbol. Some clans have requirements, usually in the form of ELO or KDR.
How to Join a Clan
1.Go to the clan menu
2.Find any clan that you want to join
3.Click the join button
4.Write a description (why you want join that clan)
5.Click the Send button
How to Create a Clan
1.Go to the clan menu
2 Go to the "create" section
3. Fill out the clan's info:
Clan TAG (can't be changed later)
Clan Name (can be changed later)
Clan Description (can be changed later)
4.Click to create button (you must pay 1000 gold)
Clan preview
Members preview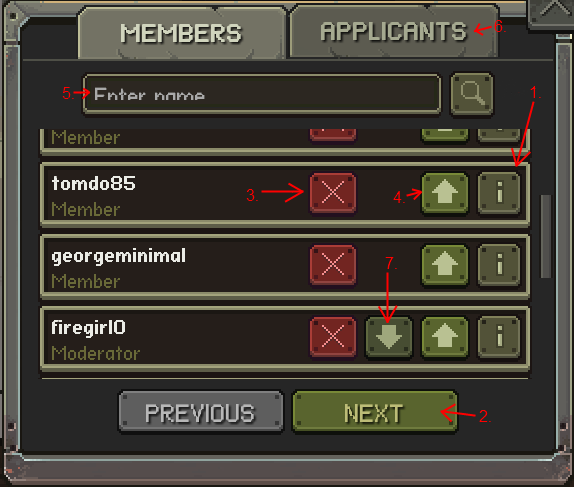 1. Player profile
2. Next page
3. Kick the player
4. Promote the player: Member --> Moderator --> Admin
5. Search for a player
6. Applicants: list of applications to the clan
7. Demote the player: Admin --> Moderator --> Member
Refer to the diagram on the right. The diagram labels refer to the numbers above.
Clan Positions
Member: Normal clan member, does not have any permissions
Moderator: Can accept and kick players
Admin: Can change the clan name, member positions, and the clan description. Admins can also can disband the clan.
WARNING: Only give clan positions to trusted players. A bad moderator can kick all players from the clan, and a bad admin can remove your admin rank or disband the clan!
Clan Score Calculations
CLAN SCORE = (sum of top 10 member's elo - 24000)*0.6 + (sum of top 11-20 members elo - 24000)*0.3 + (sum of top 21-30 members elo-24000)*0.1

Note: Clan score is currently broken in slay.one and does not update.